At Northwood, we strongly believe that every child is different in terms of their abilities, talents and personalities. A music examination board might be suitable for one child but may not be suitable for another, which is why we simultaneously offer multiple music examination tracks – the student can then best choose which board is most suitable for him or her. It is like taking the 'A' levels, IB, NUS High School Diploma and so on. The way forward is multiple tracks of excellence for different students with different abilities.
We offer all of the following examination music boards and train our students differently for these examinations:

THE MODERN PIANO CURRICULUM
In the evolution of piano playing, many things have changed in terms of approaches, pedagogy and outcomes. In Modern Piano exams, the student is challenged not just to 'follow the notes', but to creatively invent and improvise, while retaining the same robustness and highest level of classical note-reading, scales, technical work, aural efficiency, sight-reading and so on.
Advantages and Benefits
The hallmarks of great musicianship is not just about technique and memorising set pieces from another composer, note for note. The hallmarks of great musicianship include a personal, creative response towards music – this is one, big neglected component in the arena of music education. Mozart, Beethoven were great improvisers by the way, thus invariably, allowing them to compose as well.
ANZCA (Australian and New Zealand Cultural Association) Certification
The ANZCA syllabus allows for such room for improvisation and creativity, besides technique and interpretation.
Which certificates or music qualifications does MOE recognise?
This is the official reply from the Curriculum Planning and Development Division, Ministry of Education, Singapore:
"MOE is not an authority that accords recognition to qualifications. The Music Unit in MOE-CPDD does not endorse any particular music examination board certifications.
The listing of grade requirement from the examination boards to enrol for 'O' and 'A' level Music /Music Elective Programme course is a guide to understand the pre-requisite music skill/knowledge required for the various GCE music examinations. We recognise that there are equivalent certifications and/or music experience (e.g. Music CCA) that will assist students to meet the pre-requisites. The teachers in the schools are encouraged to make their assessment based on what they have seen and heard from the students (rather than to depend on paper qualification alone) to determine whether the students are ready to sit for the GCE Music courses."
An eg: Comparison between ANZCA and ABRSM(eg. grade 1 level)
The table below shows for eg. how ANZCA is several times more challenging than the ABRSM syllabus.
| | |
| --- | --- |
| ABRSM grade 1 | ANZCA grade 1 |
| melodic minors: optional | melodic minors: compulsory |
| harmonic minors: yes | harmonic minors: yes |
| broken chords: 1 octave | arpeggios: one and half octaves |
| triad conversion: nil | triad conversion is required |
| interval identification: nil | interval identification: 3rds, 5ths, 8ths |
| General Knowledge of composer, title, signs and terms in the piece: nil | General Knowledge of composer, title, signs, terms, time signature, key, notes and rests of pieces is expected |
| Sight reading: 8 bars. Single hand | Sight reading: 8 bars. Double hands. |
| Pieces: 3 set pieces. Repertoire choice generally limited to set book. | Pieces. 3 set pieces. Repertoire is unlimited. |
How do students fare?
Our ANZCA-trained piano students are admitted into the MOE's Music Elective Programme (MEP) of various secondary schools.
We also have ANZCA -trained students who have achieved Gold in the Ars Nova Piano Competitions/Festivals. Our modern piano students also have experience playing and performing in public arenas, and many have gone to score first class distinctions in ANZCA, LCM examinations too.
Quote from Dr Robert Keane, senior examiner, ANZCA, M.Music, PhD.: "Northwood prepares its students really well. They demonstrate the ability to go beyond the written score and creatively handle improvisation confidently. Well done!'
Which exam board is suitable for my child?
At Northwood, each child is assessed carefully in order to see which board is best suitable -based on his/her abilities and interests. This way, there is much greater sustainability of learning in the long run.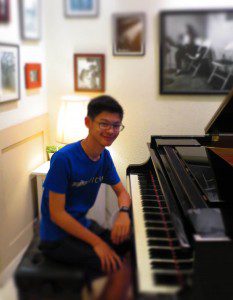 I have benefited tremendously from Northwood's improvisational and creative concepts taught in my music education, beyond just the 'exam' stuff that I have to do (scales, aural, sight reading, etc.). Also, the modern repertoire allows me to experience playing different genres of music, improving my sense of rhythm and harmony as well.
There are also ample opportunities for piano performance, either through recitals or public performances, these have helped me gained more confidence as a pianist.
In my school's Music Elective Programme for which I has since graduated, what I have learnt have helped me see things in a different perspective and this has enlarged my outlook on music as a whole. Thank you so much! – Isaac, Distinction Grade for MEP 'O' level Practical component, 'A' grade for Music 'O' levels examinations. ANZCA Grade 8, Honours.
Contact us for more details about this exciting programme.